Dear students,
welcome to the web page of the Ophthalmology Department.
We hope you will find here some useful basic information about our Course of Ophthalmology.
Due to the coronavirus epidemy, the lectures and practices in the hospital are cancelled.
We prepared for you the "virtual classroom" with the lectures as PowerPoint presentations and videos.
The link to the classroom is: https://dl1.cuni.cz/course/view.php?id=9472
More lectures will be added to this classroom shortly.
We apologize for the COVID 19-caused inconvenience in your studies.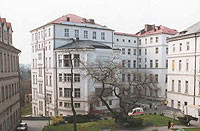 Sincerely,
Pavel Kuthan, M.D.,
Head of the course